Dryer Vent Cleaning
Same Day Dryer Vent Cleaning Service.
We offer same day dryer vent cleaning in Tustin and surrounding cities. Same day dryer vent cleaning is important as you can never tell when you dryer will get clogged. Over years of usage and not cleaning your dryer vent, the lint sticks to the humid vent and build up over time to create a clog. When that happens you will notice several weeks of longer drying cycle than the usual. However, when it gets completely clogged you have to clear it asap as you typically have more loads on the way. Therefore, when you need same day dryer vent cleaning please contact Pro G Air Duct Cleaning & Dryer Vent Cleaning.
.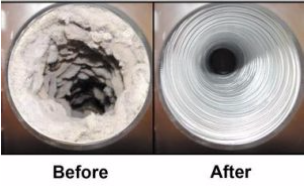 Before and after, the service of the Dryer Vent. The difference can be clearly seen.